New Project Launched- E- Waste Collection
New Project Launched- E- Waste Collection sss
AIWC, a more than 90 years old National level NGO, has always remained ahead of the curve in delivering services to the society. On 30th of July 2020, amidst the chaos and confusion of COVID 19 pandemic, the team of new office bearers under the dynamic leadership of Smt Sheela Kakde took a historical step towards making our world greener andthe planet healthier,by setting an e- waste collection centre in collaboration with Hulladek, within the AIWC premises. The centre is open to public for a safe disposal of their e waste such as; old laptops, computers, and all sorts of old electronic gadgets etc. The centre is located at:
Sarojini house,
6, Bhagwan Dass Road
New Delhi- 110001
It will remain open for public to drop the e-waste from 10 am to 4pm from Monday to Thursday.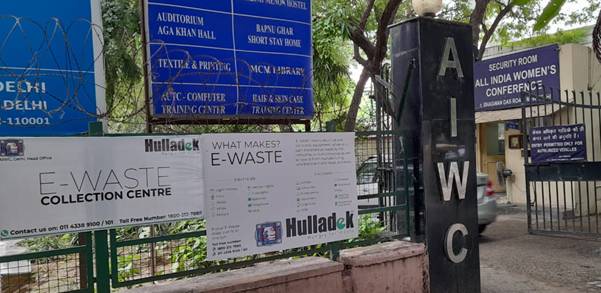 E-Waste Collection Centre at AIWC,6, Bhagwan Dass Road, New Delhi, in collaboration with Hulladek(Timings: Monday –Thursday, 10 am to 4pm)
'The entire planning and the opening of the centre happened at a very short notice of that of a week, and it could be possible due to the co-operation and diligence of the office staff,' said the AIWC President, Mrs Sheela Kakde.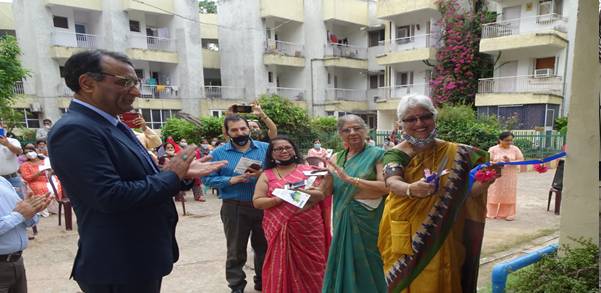 Inauguration of the first e-waste collection centre of Hulladekby AIWC President -Mrs Sheela Kakde ;SecyGen-Mrs Kuljit Kaur; Regional ManagerCanara Bank- Syndicate bank-Mr Sobti;at AIWC Campus, New Delhi on 30.7.2020.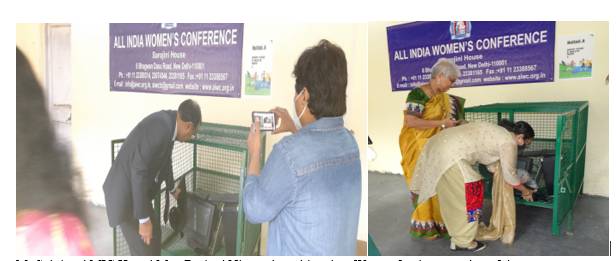 Mr Sobti and MIC Hostel Mrs. Rashmi Nigam depositing thee-Waste after inauguration of the centre on 30.7.2020
To stem the tideof restraint put on the mobility due to the pandemic the technology was resorted to for the inauguration of the centre. The team of Hulladek joined the inauguration with AIWC staff and office bearers whereas MICs and AIWC members from across India attended through various web platforms and celebrated the occasion with full gusto.Mr Sobti, Regional Manager (Canara bank-Syndicate bank) joined AIWC team in person to celebrate the occasion and praised the efforts stating that such an initiative is the need of the hour. Later he also deposited some e-waste as can be seen in the picture above.
Mr Nandan Mall of Hulladek with his team of 8 members participated in the inauguration through the web platform, and delivered a very interesting speech which was enjoyed by the participants from AIWC through a special speaker connected to the mobile.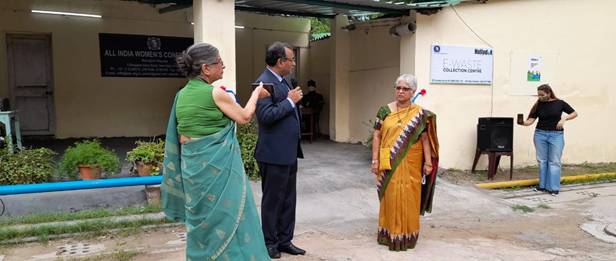 The partnering company Hulladek Recycling Private Limited is a company with its headquarter in Kolkata. It is an eastern India initiative striving to make the world a greener place through establishing proper, organised e waste management systems across the country. The company manages electronic and electrical by recycling of metal waste and scrap. Hulladek in the collaboration with AIWC, is stepping in the capital city Delhi for the first time.